Friday Rules: 16.10.2015
News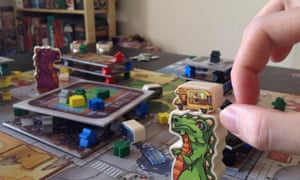 Video Games: Not As Good As Board Games. Hey, buddy, don't get defensive - I'm just repeating what I heard somewhere else! I'm like a child, but crippled under the weight of adult responsibilities. I am, of course, talking about this week's foray into board games from The Guardian, where Shut Up & Sit Down's lovely Quintin explains a bunch of cool stuff. The gist of it is that for all the stuff video games steal from board games (and they should, according to Quintin - board games are gnarly), there's still some elements that CAN'T be stolen. Like bluffing. Bluffin's a great stalwart of board games, because you can practise your 'I-swear-I-didn't-commit-the-murder' face for later life. But bluffing in video games? Much harder to do at a screen. Quintin likens it to 'lying over an internet connection, which is about as much fun as anything else in a long-distance relationship.' For his full run-down of all the great stuff board games can do, then click here to read the full article!
The Ultimate Showdown. For your weekly dose of 'the feels', check out these England rugby stars challenging some tiny children to board games. There's no Settlers in sight - it's Operation and Hungry Hungry Hippos territory, of course, but it's still fun and all in aid of UNICEF! Which begs me to ask the question - why haven't rugby players been battling children already? What an event that would be! They could compete in boxing matches, boat races, sponsored silences, the list goes on! I know you're tempted to tell me that the rugby guys - being grown men 'n all - would win, but I'd hasten to add this is the England rugby team we're talking about. There ain't a lot of winning going on there. 
Our Spotlight Series Starts! Once a week, we'll be treating the good folks of our online audience to a 'game of the week' style blog post, featuring one awesome new board game. We'll shine a spotlight on that particular game, so that you don't have to! All the information you need - the video reviews, written reviews, how the game plays and those all-important photos - will be readily available for you to feast your eyes on. This week's was the brand new co-operative game, Mysterium. Keep an eye on our social media next week to see our second 'game in the spotlight'!
I'm On My Gap Yah! In case you missed it, check out these top 3 board games for uni students who can't afford a gap yah. Can't trek through the Andes and marvel at the snow? Won't be sitting pool side at a resort in Bali? Never fear - globe-trotting board games are here!
IT'S OUR PARTY AND WE'LL GO NUTS IF WE WANT TO! This Monday marks one whole year since we made Mondays cool again! It's been 12 months of giving Cardiff a weekly board game bar, and we've loved every second (minus the heavy lifting, but we've got a trolley now! We're moving up in the world!). To celebrate the occasion, we're hosting a party at Urban Tap House this Monday night, from 5-10pm, £3 per person. It's just like your usual board game night, but with a ridiculously difficult quiz, a raffle, and a bunch of prizes to give away too! We've also had some awesome free copies of Obama Llama sent to us by the guys at Big Potato - win the quiz or the raffle to get your hands on this awesome game or the rest of our prizes!
Our Facebook events page is looking busybusybusy, with a bunch of cool stuff coming up for Netrunner, Warhammer, Pokemon & more - click here to view it all!
---
New Releases / Restocks / Coming Soon!

New Releases Coming Next Week! Thunderbirds, based on the hit TV show and the latest co-operative offering from Matt Leacock!; Colt Express expansion with Horses & Stagecoach; new Takenoko expansion with Chibis; new Pokemon goodies; Dixit expansion no #6 - Memories; the next in the 'tales & games' series with Little Red Riding Hood; and some restocks with Terry Pratchett's Guards, Guards!; Luchador; Heroes; Epic; plus some RPG goodness with Cthulhu through the Ages - Call of Cthulhu; Fantasy AGE basic rulebook; Occult Origins - Pathfinder; and Black Markets - Pathfinder!
New Releases Available Now - One of our pre-order hotties is here with Pandemic - Legacy!; a brand new Cash N' Guns expansion called (excitingly) More Cash N' More Guns; the 'decksploring' adventure board game Time Stories and its expansion, The Marcy Case 1992; Ashes - Rise of the Phoenixborn; Portal - The Uncooperative Cake Acquisition Game; a Mafia de Cuba expansion with Revolución; Kalidasa, a Firefly board game expansion; Tiny Epic Galaxies; the Minecraft card game; Steampunk Rally; Halo - Fleet Battles, The Fall of Reach; Space Cadets - Away Missions; Gold West; Steam Works; Midnight Circle - Tragedy Looper; Doomtown - The Light Shineth expansion; and Numenera RPG Into The Night! PHEW! 
Arriving Soon - Ticket to Ride: UK is choo-choo-ing its way to Cardiff! For our complete bunch of pre-order games, check out our 'Coming Soon' collection! PRE-ORDERS FOR ALL THESE BEING TAKEN NOW!
Don't forget to check out Rules of Play on Twitter and Facebook - join in the conversation and let us know if there's something you'd like us to cover next time!