Friday Rules: 28.08.2015
News
Super Rare and Super Special. Discworld: Ankh Morpork, arguably the most popular Terry Pratchett board game, has recently had its license removed. That means it will never be printed again and all the copies sitting in game shops are pretty much the last copies that will ever be sold. Just writing that gave me a nervous twitch - witnessing the end of something is pretty traumatic, unless it's a Tory led government or the incessant need for grown adults to wear Crocs. Revoking the game's license will inevitably lead Discworld down a path of desperate online searches and back-door dealings for huge sums of money, but as Geek & Sundry reminded us this week, rare games are, ironically, not that rare...
1. Trafalgar. In 1968, a man named Roger Cormier sat down and made a self-published game based on the battle of Trafalgar, with a felt board and basic markers as the ships. Despite the lack of polished beauty, the game is said to be a great play. With only 450 produced, the game will set you back over $1,000 (£695) and was last seen being sold twice, by two different sellers, in 2008.
2. The Campaign for North Africa. This is a 1978 war game that nobody wanted because it was hugely complex - until its notoriety peaked the public's interest. Suddenly, EVERYONE wanted it. The game features 1,800 counters, three fat rule books and a play time of almost 63 days. Burn it! Burn it in hell!
3. War of the Ring: Collector's Edition. The normal version of War of the Ring has been considered as the best rated game EVER on BoardGameGeek. The Collector's Edition of this Lord of the Rings game features hand-painted game pieces, a leather-bound instruction manual and a price tag between $1,000-$2,500 (£650-£1,630).
4. Dark Tower. In the 1980s, when people were just discovering the fun of electronics, the Milton Bradley Company brought out a game with an electronic tower that needed to be unlocked with collected keys. Unfortunately, the company stole the idea from two men who sued them for $700,000 (£456,000). The game was removed from shelves and is now considered a deliciously naughty forbidden fruit.
5. Outrage! Steal the Crown Jewels Deluxe. Although not mentioned on the list, and famed for being more expensive than it is rare, Outrage! Deluxe features an 18 carat solid gold replica of the Crown Jewels, studded with rubies, sapphires, diamonds and emeralds. You'd also get cards edged with gold leaf and the whole presented in a French polished cabinet. The internet thinks this game retails at around £8,000 but I just found it on a website for £1,475. Bargain! Get me my purse, servant!
To see photos of these rare games and the full list of 10, click here to read the whole article!
---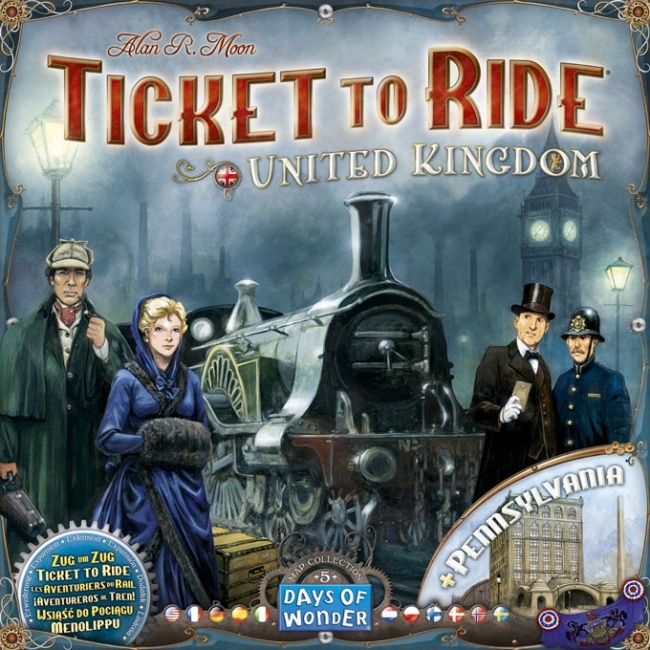 Ticket to Ride Goes All British. It's very possible you've already heard the news that Ticket to Ride, the pizza of board games, is just about to launch a brand new map expansion of 19th century Great Britain and Ireland! There'll also be a map of Pennsylvania in the same box, but who cares. I'm kidding! Maybe. This is fantastic news for all Ticket to Riders who have previously been consigned to playing the Europe version - it's great, sure, but it's no Ipswich. Now, all your favourite UK places like Cardiff and London will be filled with the steam of train engines and the whistles of conductors in an era pre-Burger King and pre-30p toilets. Take me back to the good ol' days! Click the photo below to see a larger version of the map and coo at the tiny baby Welsh flags. The game is set to be in UK stores around the end of October. We'll be taking pre-orders soon - check back on our website or email us at games@rulesofplay.co.uk to reserve your copy!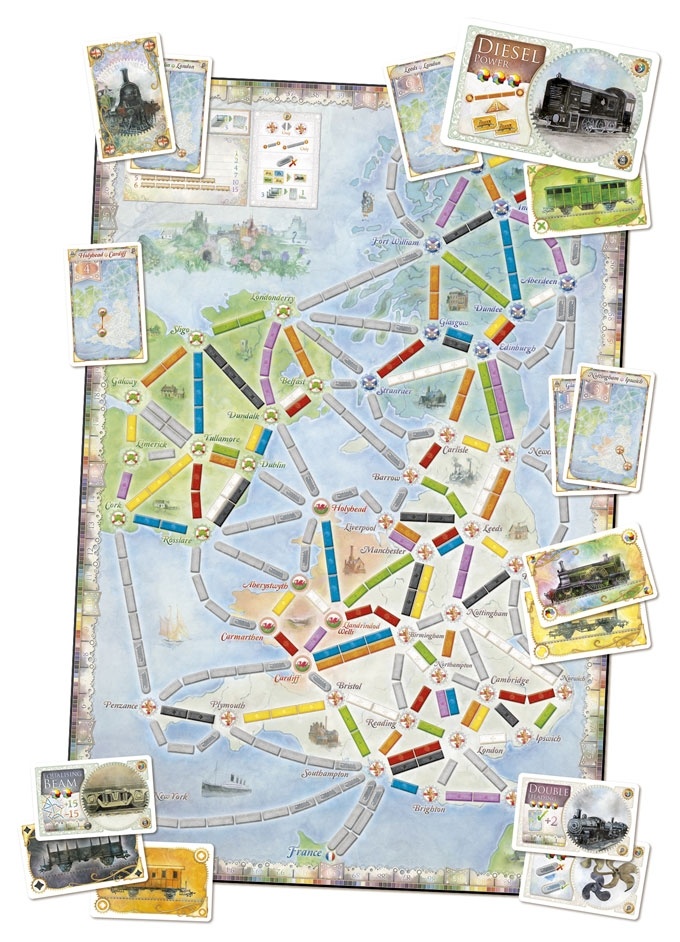 ---
Jobs With Benefits. In some rather lovely but odd news, an elderly man in Alrewas, Staffordshire, is looking for a full time housekeeper/carer - with a good knowledge of board games. The position is a live-in role at his country house, and applicants will need to be dog-lovers, non-smokers and a dab hand at a dice game with a sci-fi twist. Nah, I don't actually know what he prefers to play, but wouldn't it be awesome if you were expecting backgammon but then he hauled out a copy of XCOM or Dead of Winter?! We think a lot more jobs would be appealing if they promised the fun of board games. Imagine McDonald's with a break time playing Munchkin! Picture a high-flying city banker job but instead of exotic dancers and cigars, you mark the end of the week with a furious battle in Risk! If only, eh? If only.
---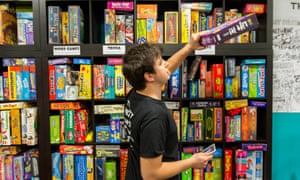 They Asked, You Answered. Three days ago, The Guardian put forth a simple question: what's ya fave game, lads? People responded in their droves, posting pictures of winning score sheets and the bitter faces of defeat, naming games from Carcassonne to Netrunner to Firefly! If you answered, or if you just wanna see what everyone else answered, click here for the results!
---
Game Of The Week - Once Upon a Time. This coming week, kids will traipse miserably through those school gates and back into lessons after a glorious summer off... so let's give them something worth learning! Once Upon a Time is a magical story-telling game for 2-6 players to show off their creative flairs. The first Storyteller will use prompts from their Story cards to weave a wonderful tale, guiding the plot towards their secret Ending card - but before they can get there, another player might jump in and interrupt, steering the story towards THEIR secret Ending card. Think Battle Royale, but less blood and guts, more wordplay and wizards. For some video validation, watch it on TableTop!
---
Netrunner 2015 Summer Tournament this Sunday! Entry is £5 and prizes include a beautiful playmat, a deckbox, promotional poster and more! 11am-4pm, in store upstairs at Rules of Play.
---
Monday Funday. Don't forget - how could you?! - we'll be back at Urban Tap House this Monday night, from 5-10pm for £3 entry with our oodles and oodles of games! Celebrate the last day of summer in style - with a pint in your hand and some dice in the other!
---
New Releases / Restocks / Coming Soon!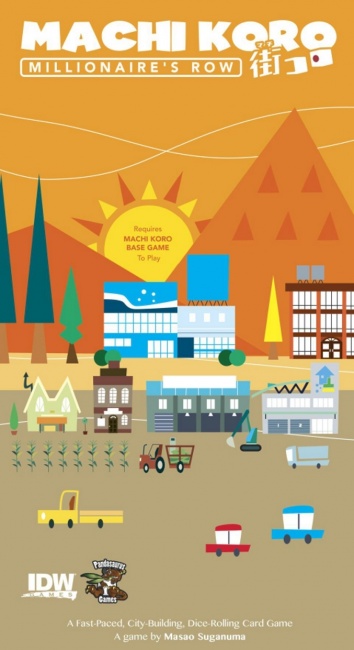 New Releases Coming Next Week! Start counting your big bucks with Machi Koro Millionaire's Row; we'll fight them on the beaches in Churchill; Empires - Age of Discovery deluxe edition; Valley of the Kings - Afterlife; and RuneQuest RPG 6th Edition!
New Releases Available Now - Get miserable in the funniest way with Munchkin Gloom!; a new Suburbia expansion with 5 Star; MTG Zendikar vs Eldrazi Duel Decks (try saying that with your mouth full!); Star Wars X-Wing Wave 7 incl. Hound's Tooth, Kihraxz, K-Wing and TIE Punisher; YGO Synchron Extreme Structure Deck; Star Trek Attack Wing Wave 17; Pokemon Ancient Origins Collector's Album; Heroes Wanted - The Stuff of Legend expansion; Heroes Wanted - Breaking News expansion; The King's Armory; Adventure Time Fluxx; Viceroy; Artifacts Inc; Utter Nonsense; Marvel VS System Box Set; 13th Age - The Strangling Sea RPG; and Amazing Adventures RPG!
Arriving Soon - 1 new standalone Pandemic game with the hotly anticipated Pandemic: Legacy; Flea Market, where finding bargains is now a skill to be judged on (woohoo!); some thrills and sci-fi spills with Legendary Encounters - Predator Deck Building Game; for our complete bunch of pre-order games, check out our 'Coming Soon' collection! PRE-ORDERS FOR ALL THESE BEING TAKEN NOW!