Friday Rules: 15.05.2015
News
Game Of The Week - Epic Spell Wars of the Battle Wizards: Duel at Mt. Skullzfyre. Jesus, that's a mouthful! But is there a better name for this thing?! If board games could be drunk, then Epic Spell Wars of the Battle Wizards would be dancing to Aerosmith in the corner with crazy eyes and half a pint of Carling down its shirt. The game sees players combine up to three cards that result in an explosion of ridiculousness - which means you could play Old Scratch's - Explodifying - Death Wish, which means no sense but sounds dramatic and could cause a lot of harm to your opponents. You'll play these cards against each other until you've sapped the strength from their wizardy wands and YOU become the ultimate Battle Wizard. The game itself uses luck when playing cards, but the silliness of the whole scenario means it's no biggie to lose by accident. A great inclusion of the game is the Dead Wizard card, which means that the player who always loses 'cos they suck at games actually has a chance to stay in and keep being awful! Which is nice for that player, at least. To see the game in action, watch it on TableTop below!


Expand Your Mind With Board Games! News just in - the benefits of playing board games keep growing and growing. The idea that games make you cleverer was already implied (you've got to be an evil genius to win a lot of them) but now it's got some kind of medical evidence to back it up! Kinda. In this article from Creative Boom, they state that board games pump up the amount of neurotransmitters in your brain, strengthen your 'imagination network' and boost serotonin, making you fuzzy and warm and full of happiness. And also dopamine. Sooo much dopamine. Games basically feed your brain with lots of good stuff and nutrients. So the next time someone scoffs when you emerge from your flat having completed a 7-hour sesh of playing the Game of Thrones board game over and over and over again, just say, 'I'm smarter now! And also I should probably eat. And maybe I could sleep? I don't know. I definitely need to sit down and rest. What's happening?'
Competition Time! Ahh, is there anything more thrilling than neurotically checking your inbox to see if you won that competition you entered last September? Well, get ready to check again! Our friends at Imagination Gaming are running a competition where you could win £1000 worth of board games! To put that into perspective, that's 50 Loony Quests! That's 83 copies of Frenzi! To see the whole list of games you could get, see the full list here. The company and the guys themselves are awesome - their thing is teaching games in schools, in communities and family environments, where they bring the brilliance of board games to kids who might not otherwise have played any. So go ahead and enter! You've gotta be in it to win it. Risk it to get the biscuit. Enter the competition to win the shmompeti - okay, that doesn't work.
The Evils Of RPGs. Now, while I'm sure all of our role-playing customers are Satanists and cult leaders, I'm pretty certain that's just a funny coincidence, and role-playing games aren't actually the work of the Devil. Try telling that to America - am I right?! High five! In this article from the Times Higher Education, the author talks about a new book called Dangerous Games: What the Moral Panic over Role-Playing Games Says about Play, Religion, and Imagined Worlds by Joseph P. Laycock. It sounds a great read, even for anyone not particularly immersed in RPGs, because he examines the history of role-play games crossed with their treatment by wider society and the media. The fact that there have been a few deaths involving people who liked to play Dungeons & Dragons has fuelled a long campaign against anyone looking to use their imagination for play. Religious groups have, in the past, fought tooth and nail to abolish the games - which means that one group of people who use a book to imagine stuff are trying to stop a different group of people using a book to imagine stuff. Yup. Read the article here!
Star Trek Event This Sunday! From 11-4pm, we'll be hosting the Star Trek Attack Wing Peak Performance OP!
This Monday - Board Game Bar! We're back again @ Urban Tap House, 5-10pm, £3 entry! Come along and dive into board games!
---
New Releases / Restocks / Coming Soon!
New Releases Coming Next Week! Magic the Gathering Modern Masters 2015; Tigris & Euphrates with a redesign of an old classic; sci-fi military fun in Xenoshyft Onslaught Core Box; Star Trek Attack Wing Wave 14; X-Men - Mutant Revolution board game; Bigfootses; Descent 2nd Edition - Dark Elements expansion; Warhammer 40k Conquest - Descendents of Isha war pack; Copper Country; Good Cop Bad Cop 2nd Edition; Strife - Legacy of the Eternals; ZhanGuo; and 1914 - Serbian Muss Sterbien!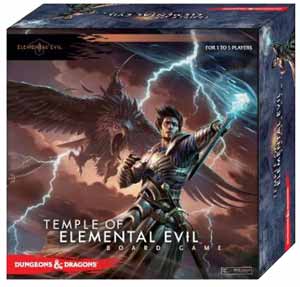 New Releases Available Now - The D&D Temple of Elemental Evil board game will be swooping into store!; More Pokémon goodies with the Mega Latios & Rayquaza 3 pack (try saying that drunk); DC Dice Masters - Justice League starter set; DC Dice Masters - Justice League Collector's Box; the Force Master vs. Warlord - Mage Wars Arena expansion; Super Fantasy - Ugly Snouts Assault; and the war game A Victory Lost!
Arriving Soon - 1 new Pandemic expansion with the hotly anticipated Pandemic: Legacy;  Extra! Extra!, the game of fast-paced news and questionable reporting; Flea Market, where finding bargains is now a skill to be judged on (woohoo!); Tigris & Euphrates, the new and updated version of the classic tile-placement civilisation game; plus the Temple of Elemental Evil board game from adventure favourite, Dungeons & Dragons! For our complete bunch of pre-order games, check out our 'Coming Soon' collection! PRE-ORDERS FOR ALL THESE BEING TAKEN NOW!
Get involved in the conversation, follow us on Twitter: @rulescardiff or join us on Facebook: Rules of Play. Keep an eye out for more stuff from our blog - we release new features and posts regularly!