Friday Rules: 08.05.2015
News
Game Of The Week - Samurai Spirit. Could you come to the rescue of a helpless village who need 1 to 7 heroes?! In the co-operative Samurai Spirit, players must defend the frightened villagers against a bunch of Bad Egg villains who want to kill them all for no apparent reason. Time to launch your attack! Work together with the other players to draw cards and decide which bandits are worth kicking and which are worth letting past so you can help a fellow samurai elsewhere. This is a game of tough choices with impossible-to-predict outcomes - bear in mind that your human form won't last forever, and there are bosses to defeat near the end! You also need to leave the village with at least one farm and a few farmers intact, or all that fighting will be for nothing. You need to fling out a furious dropkick, but at the right time. You need to know when to cut your losses, and when to stay and punch the living daylights out of 'em. You need to fight with courage, but with a shrewd intelligence too. Have you got the true Samurai Spirit?!
Simples! I didn't want to adopt a CGI meerkat's catchphrase, but what else can be said about the beauty of simplistic board games? In this article, the author takes a look at a few easier board games that don't require 4 hours of set up and a Master's Degree to wrap your head around! Camel Up is a game brilliantly fitting for today - players bet on racing camels in order to win the most cash, but the race hard to predict and can get a little messy! It's a 2-8 player easy-peasy, simple-pimple board game that goes down well with both adults and kids, and it's certainly nice to see camels on the stage for once. They're odd and unappealing animals, but everyone deserves their time to shine! Then there's Splendor, a game of increasing your prestige by buying gems and trading them on in the hopes that you'll reach 15 prestige points and get a visit from a noble. You get to eat cake and play swing-ball (probably) so it's all hands on gems to get that sense of royalty! 
It's Official! Board Game Cafes Are The Next Big Thing! So the statement and decision we have all been waiting for is in. The votes have been counted. The poll was correct. Wait, election? What election?! I'm talking about the fact that board game cafes - like our very own Monday night Board Game Bar - have been proclaimed as 'the next big thing'! It's been stated by a local newspaper in Cleveland, Ohio but be honest, we all kinda knew it anyway. Our Monday nights have been going since October 20th of last year, and we've been reaching numbers of around 70 attendees over the past weeks! That's a LOT of people playing games in just one pub! As always, we love that people are so enthusiastic to come and play, and we love seeing a mix of regulars and newbies, and then regular newbies! You guys rock!
WWE On Your Table! Hulkmania, dude! Stone Cold Steve Austin! Dwayne 'The Rock' Johnson and his Instagram photos of pancakes! Something about... John Cena? There. That's pretty much everything I know about wrestling. This follows the news of the brand new Wrestling board game, WWE Superstar Showdown, brought to us by Gale Force Nine, the publishers behind 'Firefly', 'The X Files' and more. I'll be honest, wrestling's already fake. Will a board game simulation of a pretend sport be that satisfying to play? It'd be like playing a board game about staying healthy and avoiding pizza - that doesn't happen, but I sure as heck pretend to! Check out the article with more info here!
Get Your CCG On! Tomorrow mark's the first ever Rules of Play Pokémon pre-release event! Play with the brand new Roaring Skies set - you'll get 8 booster packs over the course of the day! Plus we'll also be hosting our Yu-Gi-Oh Crossed Souls Sneak Peek event! Boosters and prizes are on hand as usual, to create a full Saturday of CCG madness!
---
New Releases / Restocks / Coming Soon!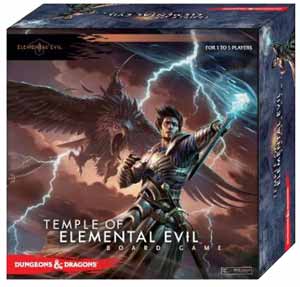 New Releases Coming Next Week! The D&D Temple of Elemental Evil board game will be swooping into store!; More Pokémon goodies with the Mega Latios & Rayquaza 3 pack (try saying that drunk); DC Dice Masters - Justice League starter set; DC Dice Masters - Justice League Collector's Box; the Force Master vs. Warlord - Mage Wars Arena expansion; Super Fantasy - Ugly Snouts Assault; and the war game A Victory Lost!
New Releases Available Now - Pokemon XY6 Roaring Skies will be kapow-ing into the store!; the first ever expansion for Snake Oil will slither in through the doors - a new set of cards called Party Potion, it can be played as a standalone or mixed in with the base game for extra silliness!; a brand new expansion for Dominion with Adventures; and a Merchants & Marauders expansion with Seas of Glory; Shadowrun Battle of Manhattan BB3 RPG; Numenera Weird Discoveries RPG; and Pathfinder Unchained RPG!
Arriving Soon - 1 new Pandemic expansion with the hotly anticipated Pandemic: Legacy;  Extra! Extra!, the game of fast-paced news and questionable reporting; Flea Market, where finding bargains is now a skill to be judged on (woohoo!); Tigris & Euphrates, the new and updated version of the classic tile-placement civilisation game; plus the Temple of Elemental Evil board game from adventure favourite, Dungeons & Dragons! For our complete bunch of pre-order games, check out our 'Coming Soon' collection! PRE-ORDERS FOR ALL THESE BEING TAKEN NOW!
Get involved in the conversation, follow us on Twitter: @rulescardiff or join us on Facebook: Rules of Play. Keep an eye out for more stuff from our blog - we release new features and posts regularly!