Friday Rules: 01.05.2015
News
Game Of The Week - Carcassonne: Hunters & Gatherers. You ever watch that brilliant film Ice Age? Or perhaps you've done the proper thing and studied prehistoric history. Either way, both versions include an irritating talking sloth called Sid. But not Carcassonne: Hunters & Gatherers! Nope. This standalone 2-5 player game is focused mainly on adorable tiny pictures of woolly mammoths and scoring points. If you've played regular Carcassonne, you'll know that players flip tiles over and lay them down to build roads, cities, fields and other constructions that they can 'claim' as their own and score points on when they're completed. It's a beautiful game that lets you use strategy whilst keeping calm and peaceful - until now! You're not gently sitting in fields or cities, you're hunting wild animals! You're gathering things from the forest and fishing for trout! You're at one with the earth and it all feels so natural! Forests, rivers, meadows and huts make up the colourful world in this game, and a cornucopia of animals await you that work together in mysterious ways when it comes to scoring. If ever you wanted a game to take you back to your Neanderthal, primitive roots, this is it. Just down start swinging that club around when you win!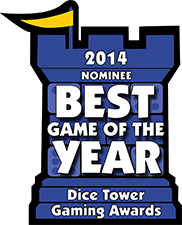 And The Nominees Are... 'The Dice Tower' is not just a bunch of people who like reviewing and talking about board games; they're list people, too. Ah! My kinda folks! They love their Top 10s but at this point of this year, it's all about the Top 1. While the winners won't be announced until closer to summer, the list of nominees for different 'best game' categories of 2014 have been announced! Check out the full list and all categories here. I can see 'Game Of The Year' going to Dead of Winter, 'Best Family Game' to Camel Up and perhaps 'Best Components' to Colt Express - although maybe that's just what I'd choose, based on general awesomeness. Oh, hang on... I was supposed to introduce all the games as inspirational pieces of art that have broken barriers in their chosen category and redefined what it means to be a board game in this industry. And then the camera would cut to a shot of Wil Wheaton in tears. Oh well. I never was good at awards shows!
Ghostbusters: Available In Stores Soon! (Kinda). Without entering into a philosophical debate on the passage and existence of time, I guess it all depends how 'soon' you think October is! Hey, we're board game lovers. We're used to waiting for the things we want! Plus it'll be out just in time for Halloween. This is, of course, the highly anticipated brand-new-and-upcoming 'Ghostbusters' board game from Cryptozoic. It raised over 1.5 million dollars on Kickstarter, which gave ghosts a lot to worry about. There's no escaping us now! Well, come October time anyway. The game itself is a co-op (naturally) and arrives during a year of Ghostbusters-related controversy. This is mainly due to the films - first, the kickass all-female cast version was announced, later followed by lots of complaining and then a hastily assembled all-male cast version. Oh, silly Hollywood. For the full article, including game contents and a gameplay video, click here!
Join us in store this weekend! On Sunday 3rd May, we'll be hosting the Spring Tournaments for Netrunner, Warhammer 40k Conquest and Star Wars: Imperial Assault! Click the links for each Facebook event - the day runs from 11-4pm, will take place upstairs in store and features a LOT of prizes!
Speaking of Star Wars... This Monday we're back at the Board Game Bar, and not only is it a Bank Holiday, but it's International Star Wars Day! Come along to play a huge range of games including Star Wars X-Wing! Monday, Urban Tap House, 5-10pm, £3 entry. MAY THE FOURTH BE WITH YOU!
---
New Releases / Restocks / Coming Soon!
New Releases Coming Next Week! Pokemon XY6 Roaring Skies will be kapow-ing into the store!; the first ever expansion for Snake Oil will slither in through the doors - a new set of cards called Party Potion, it can be played as a standalone or mixed in with the base game for extra silliness!; a brand new expansion for Dominion with Adventures; and a Merchants & Marauders expansion with Seas of Glory; Shadowrun Battle of Manhattan BB3 RPG; Numenera Weird Discoveries RPG; and Pathfinder Unchained RPG!
New Releases Available Now - Release those primal prehistoric urges inside you with Carcassonne: Hunters and Gatherers!; expand on your drive-bys with Formula D Expansion 6 - Nevada/Austin; Black Secret - Ghost Stories Expansion; become a blacksmith in Forge War; answer the ultimate question in Are You A Werewolf?; stock up on some nice accessories with the Machi Koro Deluxe Game Mat; train's the name of the game in Isle of Trains; release some pretty sky things in Lanterns - The Harvest Festival; make your own delicious beer in Brew Crafters; create beautiful garden paths in Arboretum; roleplay in Double Spiral War from Savage Worlds; grab the new D&D Elemental Evil Spell Deck; Hell on Earth Companion and Hell on Earth - the Worm's Turn, both from Savage Worlds; and Great Battles of Alexander Deluxe Expanded Edition!
Arriving Soon - 1 new Pandemic expansion with the hotly anticipated Pandemic: Legacy;  Extra! Extra!, the game of fast-paced news and questionable reporting; Flea Market, where finding bargains is now a skill to be judged on (woohoo!); Tigris & Euphrates, the new and updated version of the classic tile-placement civilisation game; plus the Temple of Elemental Evil board game from adventure favourite, Dungeons & Dragons! For our complete bunch of pre-order games, check out our 'Coming Soon' collection! PRE-ORDERS FOR ALL THESE BEING TAKEN NOW!
Get involved in the conversation, follow us on Twitter: @rulescardiff or join us on Facebook: Rules of Play. Keep an eye out for more stuff from our blog - we release new features and posts regularly!