Friday Rules: 27.02.2015
News
Game Of The Week - Hive. Now that we're slowly moving into warmer months, we're going to have to talk about our bug prevention defences. Vinegar, fly swatters, gauze nets - I've even heard 'red wine' being thrown around as an option, but I feel the only true way to be 100% bug free is to cocoon yourselves in a blanket fort with a copy of the board game 'Hive'. Now, I know what you're going to say: Hive is literally all about bugs. But it's just pictures of bugs engraved on the pieces! And you can control them and make them do whatever you want in a battle against the bugs of your opponent! Each of your insects comes with a different method of moving, so the spider can move 3 spaces, the grasshopper can jump in a straight line over other pieces and the beetle can squat its bum on top of any other bug etc. Thinking strategically, you must use your bugs to try and surround your opponent's Queen Bee piece, whilst keeping yours safe and away from harm. And bees are nice, right? I think we'll all die without them, so we like bees. And we like bugs! Provided they're just pictures on small hexagonal pieces. For a review, check out this one with Starlit Citadel. Now, where did I put that glass of red wine?
Another List, Another Dollar, Another Day. We at Rules of Play like lists. They're helpful organisational tools and they keep the madness and the voices at bay. Today's list is the unimaginatively titled '10 Awesome Tabletop, Card, and Board Games for Geeks'. I'm not particularly keen on them throwing the G bomb around so willy nilly (that's 'geek', by the way), but their website is geeksaresexy.com so I guess it's a given. The list itself is sensible, with Settlers of Catan, D&D, Dominion, Pandemic and more making the cut, but the real reason I like this list is the absolute vintage gold of the videos. The trailer for the 1985 movie 'Clue', based on Cluedo, is a laugh featuring Tim Curry, and the early 1990s adverts for Dungeons & Dragons, Risk and HeroQuest are beautifully awful. Although it's hard to really mock them - these ads clearly worked! For the full list, click here.
Oh Wow - Another List?! Well, kinda. It's not really bullet pointed so I'm reluctant to label it as such. 'List' is a term best kept for those who deserve it, but that said, this is definitely something you'll wanna check out! The author visited the annual Toy Fair in New York on February 17th, and he's emerged like a beautiful butterfly full of lots of great information about ya fave games. He tells us a little about Mayfair Games' Flea Market and Extra! Extra! (but you guys know about them!), and a specific 2 player spin-off game for 7 Wonders, due out this summer. He also found out about Tsuro's new luxury edition, due out this year to celebrate Tsuro's 10 year anniversary, and a new expansion for Takenoko. I'll be getting my hands on that luxury Tsuro! Unless it's really limited and everyone else grabs a copy first. You know what, pretend I didn't say anything! Nothing to see here, folks. Apart from the whole article - lots of great gaming information to put in your calendar!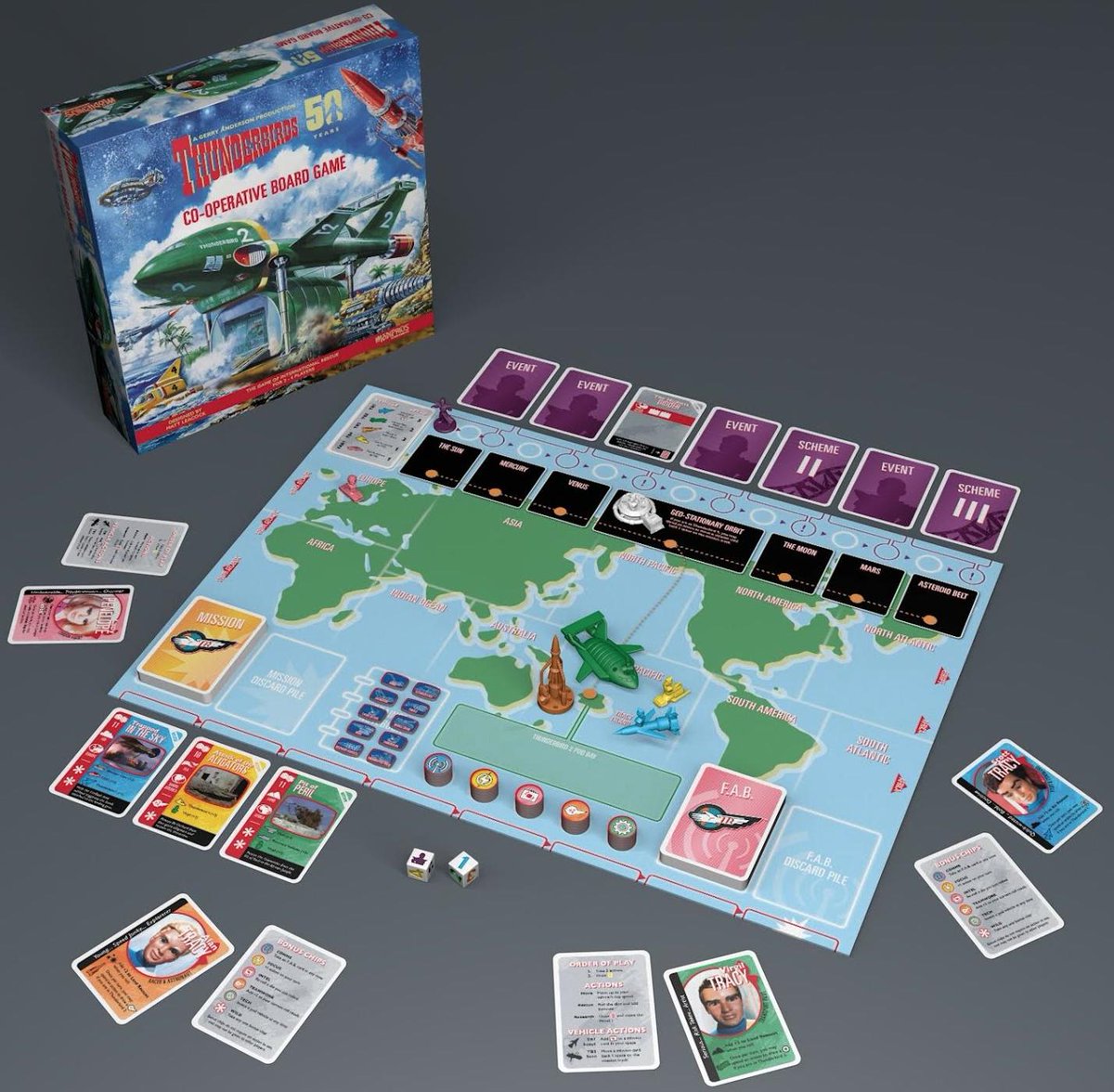 A Little Nugget of Thunderbirds Joy! Following news that the classic and much-loved 1960s 'Thunderbirds' TV show is getting a brand new reboot on ITV this spring, we'd like to share more news that Pandemic creator Matt Leacock is in the process of creating a co-operative board game based on the series! The picture above shows a mock-up of the game and how it could look, but for a better view of the original Twitter photo, click here. You may note how similar it looks to Pandemic, but with such great game-play and success to its name, that can't be a bad thing! The game itself is up on Kickstarter - go take a look for more info! And to jog your memory of the classic franchise, here's the intro and the theme song. Thunderbirds are go!
---
New Releases / Restocks / Coming Soon!
New Releases Coming Next Week! Live out your werewolf daydream with One Night Ultimate Werewolf Daybreak, including eleven new roles for you to choose from with special abilities!; enter the fantastic kingdom of Akardia armed with a felt pen and drawing skills in Loony Quest; the Pokémon Groudon and Kyogre Boxes; a follow up fable to The Tortoise and The Hare with brand new The Grasshopper and the Ant; Salerno; Gaslight Victorian Fantasy RPG from Savage Worlds; The Aether Sea - Fate RPG; Save Game - Fate RPG; The Deck of Fate; Cities of Mystery - Witch Hunter expansion; and Ravaged Earth 2nd Edition RPG from Savage Worlds!
New Releases Available Now - A bunch of new Star Wars X-Wing expansions, including the StarViper, Most Wanted, M3-A Interceptor and IG-2000 expansions; Yu-Gi-Oh Secrets of Eternity Super Edition boxes; MTG Duel Decks Elspeth vs Kiora; Extra Extra the Heroes Wanted expansion; plus the Champions & Masterminds Heroes Wanted expansion; Talisman The Deep Realms expansion; Ship Dice the Firefly expansion; Monopoly 80th Anniversary edition; Argent - The Consortium; Mancers of the University - Argent The Consortium expansion; I, Spy; Pathfinder Skulls & Shackles From Hell's Heart adventure deck; Summoner Wars - Alliances; Antike 2; two Munchkin booster sets with Kobolds Ate My Baby and Love Shark Baby; Shadowrun 5th Edition - Run Faster; Shadowrun 5th Edition - Run Faster Limited Edition; Shadowrun - London Falling! 
Arriving Soon - 1 new Pandemic expansion with the hotly anticipated Pandemic: Legacy; from a galaxy far far away comes a new Star Wars miniatures game with fleet-based Armada; Extra! Extra!, the game of fast-paced news and questionable reporting; Flea Market, where finding bargains is now a skill to be judged on (woohoo!); Tigris & Euphrates, the new and updated version of the classic tile-placement civilisation game; plus the Temple of Elemental Evil board game from adventure favourite, Dungeons & Dragons! For our complete bunch of pre-order games, check out our 'Coming Soon' collection! PRE-ORDERS FOR ALL THESE BEING TAKEN NOW!