Friday Rules: 16.01.2015
News
Game Of The Week - Formula D. Listen, we can't all be Lewis Hamilton - but Formula D doesn't know that! This award-winning, high octane, 2-10 player game of screeching tyres and burning rubber is a family game that relies on a little bit of planning and a little bit of luck! The gears on your handheld dashboards correspond to the different dice rolls, meaning you need to work out how fast your tiny car can go. Choose whether to stay in gear, move up one, move down one - just think ahead and you could be okay! There are penalties to be had, of course, and reckless driving (though encouraged) is punishable! If only the regular Formula 1 was that simple... Formula D also comes with fun extra items, like illegal races through city streets: otherwise known as a Thursday night in Cardiff. For videos, watch it played on TableTop or check out a Dice Tower review.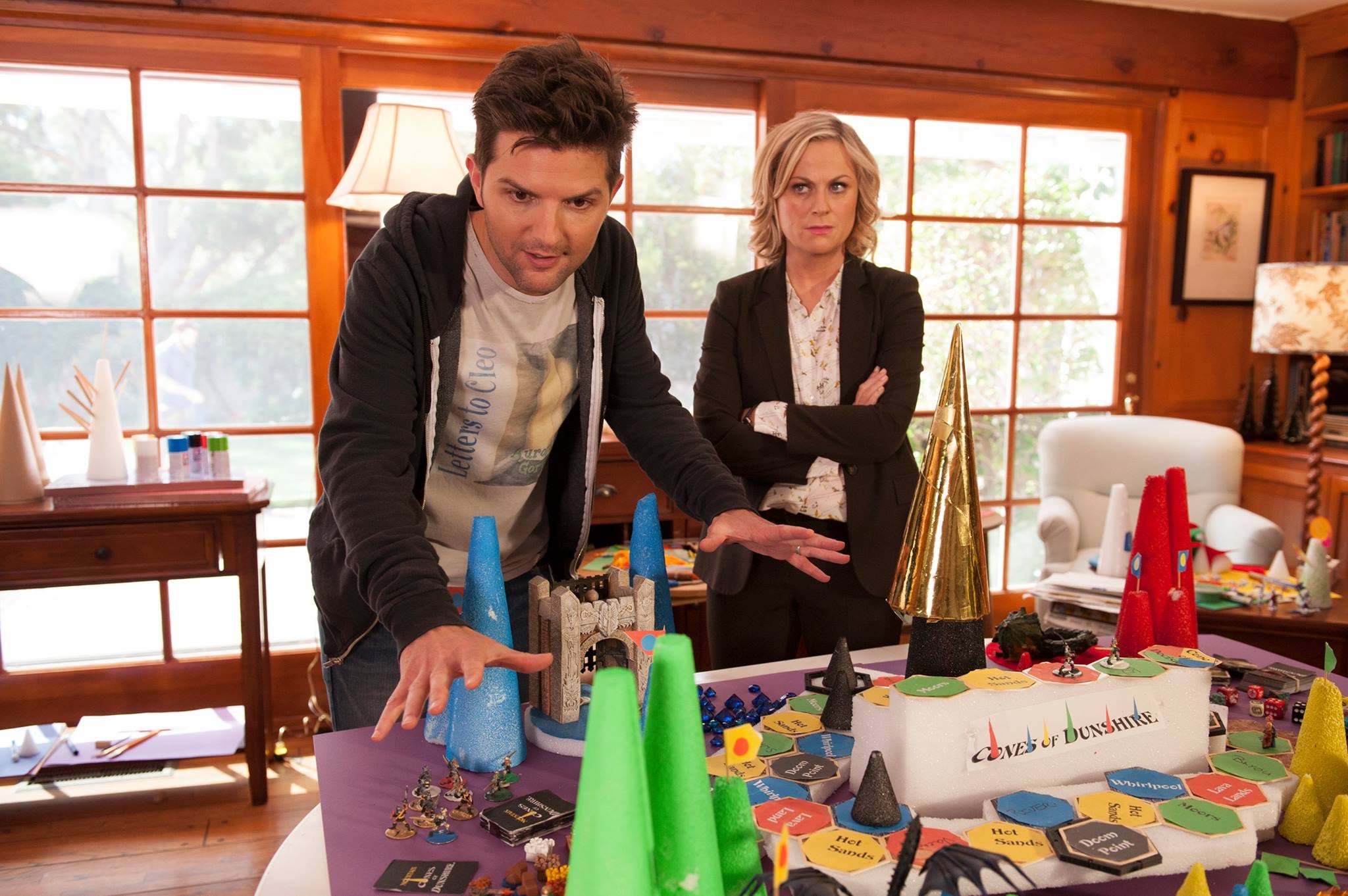 The Cones of Dunshire - Coming Soon To A Table Near You. If you're a regular reader (or a Parks and Recreation viewer!), then you may remember The Cones of Dunshire and its really weird back story. It's a game that kiiinda takes its inspiration from family favourite Settlers of Catan, but it was actually created by a fictional character called Ben, in the popular American 'mockumentary' TV comedy, Parks and Recreation. It uses a lot of cones. It also seems to have no real rules and nobody knows how to play, but it looks cool! Last year, Mayfair Games created The Cones of Dunshire for Gen Con, and it was massively popular, with people buying charity tickets to be able to play. Well, it's now even real-er. As in Mayfair Games have created a Kickstarter for the game, and it's a wince-inducing pledge of £330 just to receive a copy of the game! But ten dollars gets you a poster, fifty gets you a shirt etc. They're hoping for $300,000 by mid-March, and I've gotta say, I'm kind of hoping they do it. What a ridiculous but oddly uplifting thing to happen in the world. Go Pawnee! For the Kickstarter, click here. For the original article, click here.
Games & Green Bay Packers. Another weird but awesome story this week - one of America's NFL teams, the Green Bay Packers (coincidentally, 1 of 3 teams that I've actually heard of), have opened up about their love of the massively popular board game Settlers of Catan. They play in their locker room and more and more of the team have begun to get involved, and now they're obsessed. "We are completely addicted to it, we play it whenever we can," said one of the players. With Green Bay being such a tiny town, they admit they were desperate for something to do when one player introduced Catan. Now it seems you couldn't get them to do anything else, for love nor sheep. Green Bay's local game store has even been flooded with new customers and a lot of attention, and the players themselves go there to shop. Now we just need to convince the Cardiff Blues to strike up an interest in Ticket to Ride... For the original article, click here!
Come Save Lives and Play Games! Our Pandemic Party is getting closer, and takes place on Wednesday 28th January, 7-10pm at The Gate! Tickets cost £10, with proceeds going to Doctors Without Borders, a main organization in the fight against Ebola. You'll also receive a raffle ticket, and you could win Pandemic goodies! You must purchase your ticket in advance - to do so, visit this page on our website. To see the Facebook event, click here!
Board Game Bar's back, this Monday... at Urban Tap House, 5-10pm, £3 entry! Last week we saw 2 newbies being played - Camel Up and Concept, and both went down a storm! Come along and join us; you never know what you'll end up playing!
New Releases / Restocks / Coming Soon!
New Releases Coming Next Week! We'll have a TRUCK full of Magic the Gathering: Fate Reforged stuff on our doorstep, including Fat Packs, boosters and Clash Packs! It's all brand new so get it while it's hot!; there'll be the dice-based version of Race for the Galaxy with 'Roll for the Galaxy' - a new journey awaits!; Dungeon Lords - Happy Aniversary, including the base game, the Festival Season expansion and a dungeon-load more!; pick your enemies wisely with the DC Deck Builder Rivals - Batman vs Joker; the Pokémon Mega Evolution Triple Pack CDU; unify China with opposing armies in Sun Tzu; the second expansion for Cyclades with Cyclades Titans; and for Dungeon Masters who like to treat themselves, we'll have the D&D Deluxe DM screen!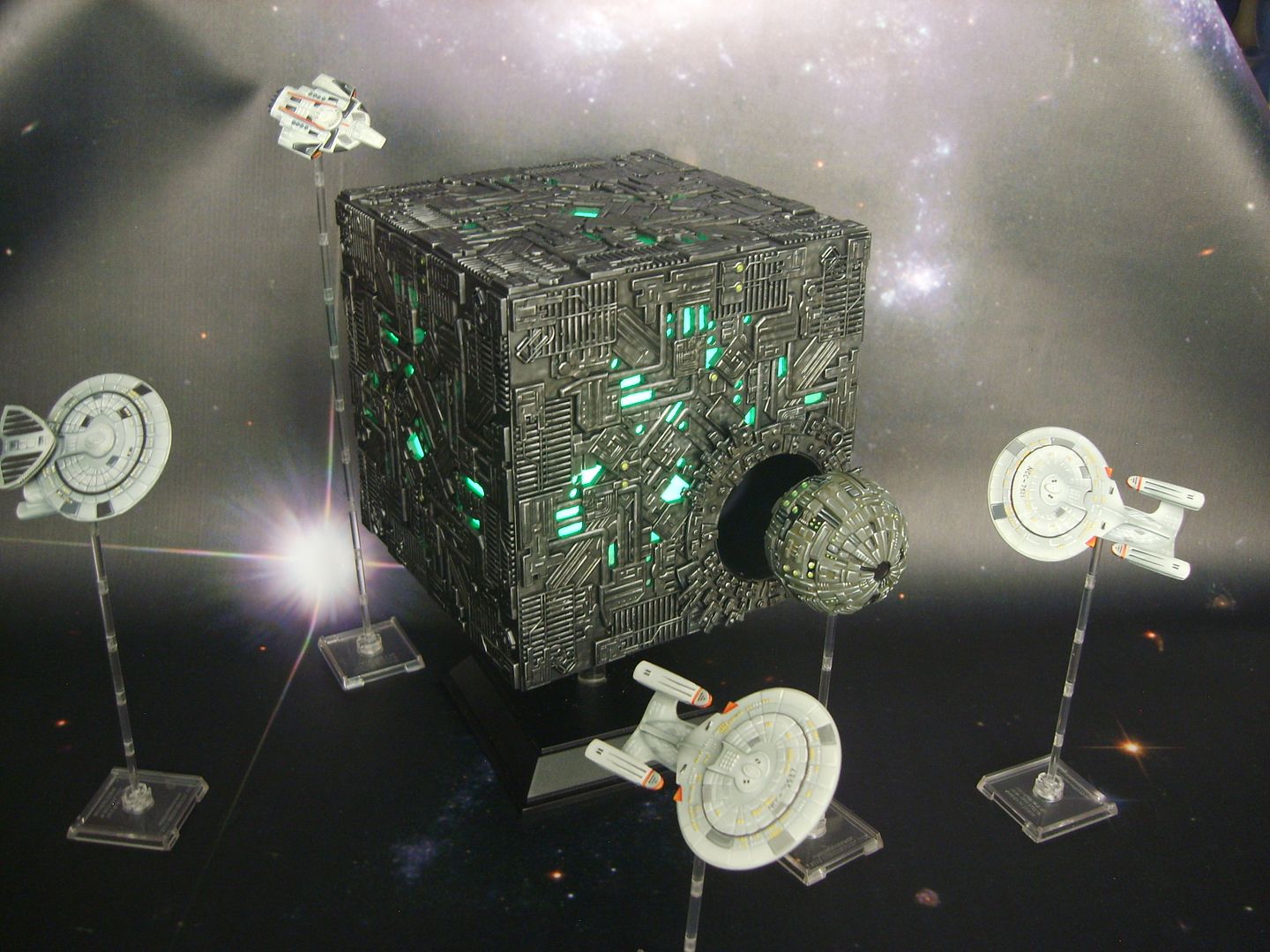 New Releases Available Now - The most menacing Cube since Phillip Schofield's TV show, it's the Borg Cube from Star Trek Attack Wing!; celebrate the new year with the freshest new cards from Yu-Gi-Oh, the Secrets of Eternity boosters; master the art of Pokémon battling with the Gallade-EX Box; hop into the TARDIS in The Doctor Who Card Game 2nd Edition; sharks ahoy in Let Them Eat Shrimp; Channel A; The Duke - Middle Ages Siege Engines expansion; A Game of Thrones 'Secrets and Schemes Chapter Pack'; The Lord of the Rings 'The Antlered Crown Adventure Pack'; Star Wars Between the Shadows; Shadows of Brimstone - City of the Ancients; Shadows of Brimstone; Swamps of Death; Sons of Anarchy - Grim Bastards; Dreaming Spires; Munchkin Legends 2 - Faun and Games; Gravwell - Escape from the 9th Dimension; Star Wars Age of Rebellion - Stay on Target; and after years of waiting, we'll have Command & Colors - Ancients; Command & Colors - Expansion 2/3 reprint; and Command & Colors Napoleonics - The Prussian Army!
Arriving Soon - 1 new Pandemic expansion with the hotly anticipated Pandemic: Legacy; from a galaxy far far away comes a new Star Wars miniatures game with fleet-based Armada... PRE-ORDERS FOR ALL THESE BEING TAKEN NOW!