Friday Rules: 12.12.2014
News
Game Of The Week - About Time. Well, thank the Lord for this game! For those of us who are 'trivia maniacs' (that's what the police called me last time), there's another game to add to the pile of Trivial Pursuits and Articulates! 'About Time' is a 2-8 player game that's great for family Christmas parties or any other gatherings when you'd like to show off who's the cleverest or just have a nice time (pfft). Question cards feature six events - your job is to correctly guess the year they all happened in! Luckily, unlike a lot of 'wait your turn' classic board games, you all get to throw your answers in at once! Whoever's closest wins the point, and is one step closer to the center. Each round brings new flavours to gameplay, such as the ability to steal another team's points - really hammering in that 'fun family Christmas' vibe, there! Thanks again, Lord. For a better look at the game, click here to watch a review with BoardtoDeathTV!
Kids of Catan. As Geek & Sundry's 'TableTop' mows through its third season, the producers have been able to show what they always wanted to - even kids can beat Wil Wheaton. In this third episode, the children from Geek & Sundry's popular show, 'Written by a Kid' (they literally animate and act out kids' stories, with guys like Joss Whedon involved, it's so cool - check it out!) join Wil to play a game of Catan Junior. Watch the video here!
Carcassonne's Had A Make Over... and looks 10 years younger! Weirdly, that's accurate. This new tile design for 'Carcassonne 2.0' by artist Anne Pätzke has made it look tighter, firmer, more vivid and great in a cocktail dress. Okay, I'm stopping now, but it looks so cool! The box has even undergone the surgery from artist Chris Quilliams and, again, looks fresh and bold. Don't panic - the back of the tiles is still the same as all previous Carcassonne editions, so no mix-ups there, although they'll be undoubtedly less scuffed and worn! For any newbies to Carcassonne wondering what the hell I'm on about, it's a fantastic game, enjoyed by couples, families, mates, kids and more, and the game itself is 14 years old. Named after and inspired by a small town in France, it uses the real life 'castle city walls' as one of its primary locations you want to score points from. Each player takes turns picking a face-down tile, turning it over and placing it wherever it fits. The tiles feature roads, cities, monasteries, fields and, in this expansion, a river. Place your meeples on the various features and when - if! - you complete them, you score points. In fact, I score points for the most boring explanation ever, BUT IT'S SO SIMPLE AND EASY TO EXPLAIN AND ALSO LOVELY AND FUN, PLEASE LOVE IT LIKE I DO, IT'S SO GOOD!!! IT REALLY IS! For a full Geek Dad review of this new edition and some great photos of the new tiles, click here and be sure to watch the bizzarely brilliant 'Carcassonne Tonight' video that I watched in something of a trance.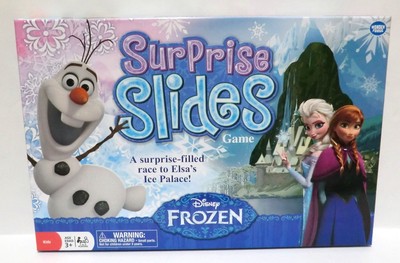 Do You Wanna Build A Sno - NO. Nothing - absolutely nothing - could escape the clutches of last year's 'Frozen', a film so big with such an over-played soundtrack that the songs drill holes into my brain at night, and I haven't even seen the film. Board games, inevitably, made the list of merchandise/tat that was spawned from the film with a game called 'Frozen Surprise Slides', a poorly-disguised snakes and ladders (on ice). Unfortunately, parents are at risk of ignoring brilliant board games in favour of crap from Frozen - okay, so the latter they'll love immediately, but buy them a real board game and they'll love it for life! Tovarich Pizann found himself in a tricky situation when walking through a shop one day and seeing two mothers debate whether they could get their kids off the iPads and devices for long enough to play the game. Read the full article here - it's a great read and probably all of us would've felt the urge to protest loudly about their taste in gaming. Down with the Disney merchandise!
Last Monday we held our Christmas party at Urban Tap House and it was fantastic! Thanks to everyone who came along and made it great, and thanks to our 'guess how many dice' challenge and our quiz winners, Mike, Mike, Gino and Alex! We've had a fantastic 8 weeks of the Board Game Bar and we'll be back in mid-January, so keep an eye out for updates around then! 
Join us in store this Sunday for Roleplaying & Storytelling with CROW! Fancy exploring your creative side? Want to learn more about RPGs? Come along, 11-4pm to find out!
We have another Yu-Gi-Oh Sneak Peek on the horizon, with 'Secrets of Eternity' in store on Saturday 10th January, 11-5pm! Lots of fun with lots of prizes, a promo card, 5 Secrets of Eternity boosters and perhaps a branded game mat! Entry is £20.
New Releases / Restocks / Coming Soon!
New In Store From Next Week - Will you be a sorceress, a bard, warrior or the Witcher himself? It's here and ready to be laid out across our tables at long last - The Witcher Adventure Game! Transport ships and cruisers in Impulse; hidden information with Le Fantome De L'Opera; 7 Days of Westerplatte; Imperialism - Road to Domination; Urban Panic; Enclave; D&D DM screen - Hoard of the Dragon Queen; and a whole lot of shufflin' action with Shuffle Monopoly Deal; Shuffle Guess Who; Shuffle Cluedo; Shuffle Trivial Pursuit; Shuffle Boggle Slam; Shuffle Battleship; Shuffle Play-Doh; Shuffle My Little Pony; and Shuffle Transformers - I'm all shuffled out!
New Releases Available Now - Carcassonne, baby - it's back and better than ever as the '2.0 edition', with a complete redesign spanning both the cover box artwork and the land tiles themselves!; adding to the Carcassonne fuel is Carcassonne - Gold Rush, in which players try to discover nuggets of gold in 19th Century USA; the newest addition to the Star Wars fuel and right in time for THAT trailer, it's Imperial Assault; Warhammer 40k Conquest - The Howl of the Blackmane; Aqua Sphere; Furor Sanguinis - Claustrophobia Expansion; become the villains in the standalone DC Deck Building Game - Forever Evil; another batch of Munchkin Adventure Time; Shadowrun Runners Toolkit - Aplhaware; and Dragon Age - Set 3!
Arriving Soon - beautiful storytelling in The Witcher Adventure Game; 1 new Pandemic expansion with the hotly anticipated Pandemic: Legacy; from a galaxy far far away comes a new Star Wars miniatures game with fleet-based Armada... PRE-ORDERS FOR ALL THESE BEING TAKEN NOW!