Friday Rules: 05.12.2014
News
Game of the Week - 7 Wonders. One minute you're minding your own business, opening a board game box and the next thing you know, you've been ill-advisedly placed in charge of one of the 7 great cities of the Ancient World. Typical, really. In this 2-7 player and 30 minute card development game, you have three ages in which to build your city and construct the best piece of architectural work since that palm tree thing in Dubai. In each age, players take seven cards from a deck, choose one, then pass the remaining cards to the next player. Then - SNAP - everyone reveals their cards! These could see them collecting resources, paying resources, desperately attempting to build neighbourly relationships with one of the other cities, who knows! You then all choose another card from the deck that was passed to you and it carries on until you've got six cards for each of the three ages. Luckily, each card is revealed and played straight away, so you're able to guess at your opponents' strategies and smash them down! 7 Wonders is an award-winning game with a whole slew of reviews from Starlit Citadel, The Dice Tower and a more in-depth look at it with Opinionated Gamers.
The 12 Days Of Board Game Christmas. Who needs a partridge in a pear tree anyway? If you're one of our social media/blog regulars, you may have noticed that for the past week, we've been putting out a post a day featuring three recommendations of various games for over Christmas. So far we've had Family Games, Traditional Games, Three Little Gems and Christmas Party Games! Today's offering is Strategy Games, so that's fresh off the shelf! We - along with Board Game Santa, who is TOTES real - know that sometimes people need a few ideas or suggestions when their brain is hazy with eggnog or the madness of Christmas. So for the first 12 days of December (minus weekends, because, y'know - playerz gotta play), you need look no further than the angelic guidance of our blog! Coming up soon we'll be recommending some great Stocking Stuffers, Co-operative Games, Gift Ideas for Teens, Kids, Your Best Mate, and more! Keep an eye out for these - we, er, may be doing a quiz afterwards. And... well, perhaps some answers could be found in the blog posts. Maybe. Who knows. I'm not saying anything! Life is a myyyssttterrryyy. Merry Christmas!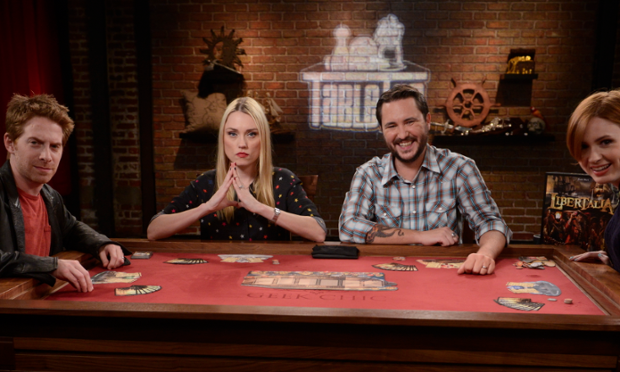 Wil Wheaton Friday. A few weeks ago in Friday Rules, we brought you a piece about Wil Wheaton, the actor, gaming enthusiast and 'TableTop' creator. Well he's here tonight - again! In an article with The Guardian, Wil talks about his first foray into acting when he entered the Trekkie universe. It was the first time he experienced something close to online abuse, when a bunch of people decided they disliked his character and so decided the most rational thing to do was insult the actor. Riiight. Wheaton has since been very vocal about the nastiness in the online community, which even led to the creation of Wheaton's Law: 'Don't Be A Dick'. He also speaks out on behalf of women who are often treated terribly in gaming - further conclusive proof that Wheaton is a Good Egg. His latest TableTop episode features Alan Tudyk, Jon Heder and Felicia Day with Forbidden Desert, and you can even watch the gag reel! For the full article, click here and celebrate 'the king of the nerds'!
Family Games Day is here for the last one of 2014 this Sunday, in store, from 12-4pm! Come along and try some of our traditionals - like Rollet, Pucket and the all-new Tumblin' Dice - and some of your family favourites with Cube Quest, Feed the Woozle and more!
We're throwing a Christmas Party! This Monday marks the last time we'll be in Urban Tap House in 2014! Come along and join us for a drink and a few games - there'll be a quiz with an epic prize worth £100 in games of your choice, a 'guess-how-many-dice' jar with a gift voucher for the winner and lots and lots of gaming festivities! As usual, it's 5-10pm, £3 entry. Click here to see more information from our website, and here to see the official Facebook event. See you there!
New Releases / Restocks / Coming Soon!
New In Store From Next Week - Carcassonne, baby - it's back and better than ever as the '2.0 edition', with a complete redesign spanning both the cover box artwork and the land tiles themselves!; adding to the Carcassonne fuel is Carcassonne - Gold Rush, in which players try to discover nuggets of gold in 19th Century USA; Furor Sanguinis - Claustrophobia Expansion; become the villains in the standalone DC Deck Building Game - Forever Evil; another batch of Munchkin Adventure Time; Shadowrun Runners Toolkit - Aplhaware; and Dragon Age - Set 3!
New Releases Available Now - We've got the new Explorers & Pirates 5-6 Player Expansion for Settlers of Catan; a deck-building game of medieval fantasy with Mythotopia; Yu-Gi-Oh The New Challengers Super Edition has whirled its way into store; there'll be fights to remember with Magic the Gathering Duel Decks - Anthology; chips and dice with the American pub game Cock & Bull; Panamax; Aquasphere; the reprint of Marrying Mr Darcy - The Pride & Prejudice Card Game; plus the Marrying Mr Darcy - Undead Expansion; Sellswords; Tempest Rising - Skull & Shackles Adventure Deck 3 for Pathfinder; the ever-colourful Mars Attacks Dice Game; Marianas 1944; and OCD Korea - The Forgotten War!
Arriving Soon - beautiful storytelling in The Witcher Adventure Game; 1 new Pandemic expansion with the hotly anticipated Pandemic: Legacy; from a galaxy far far away comes new Star Wars miniatures games, fleet-based Armada and ground-based Imperial Assault.... PRE-ORDERS FOR ALL THESE BEING TAKEN NOW!